Some of the most exciting enhancements in Direct Mail 3 can be found in the message editor. In particular, we've added an easy way for you to embed video right into the body of your email. Videos can be a great way to engage your subscribers and stand out from the crowd. Read on for a quick tutorial on how to add video to your email.
Most email clients (like Gmail, Outlook, etc.) do a really poor job of displaying HTML email (i.e. more than just plain text). As such, most email clients won't allow videos to be embedded and played right from the body of the message. The next best thing, then, is to embed a thumbnail of your video that links to the video.
How To Include a Video
After you've picked out your video (from YouTube or Vimeo), open up Direct Mail and click the spot in your message where you want to insert the video, like so: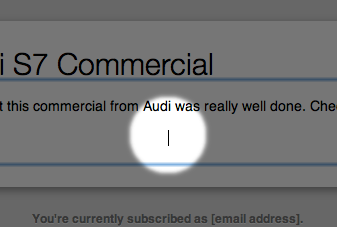 Next, choose Edit > Insert Video from the menu bar. Paste in the URL to the video, choose the size of the thumbnail you'd like, and click Insert.

Direct Mail automatically places a thumbnail of the video into the body of your message: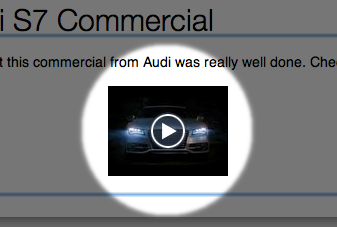 That's it! When your recipients click the thumbnail, they will be taken to YouTube or Vimeo and can watch the video online.
Adding video to your email is a great way to engage your subscribers and stand out from the crowd. With Direct Mail 3, adding video to your emails takes only a few clicks. Try it out in your next newsletter—and tune in next week for more Direct Mail tips and tricks!