We're happy to announce some fresh new bits for you to enjoy. We released the 3.1.1 update for Direct Mail this morning. The release notes have a full run-down of the changes, but here are a couple highlights:
Performance and Bug Fixes
You will find that navigating around your project (changing tabs, selecting groups, history report sections, etc.) is much faster, as is opening project documents. The improvements are particularly noticeable in large projects. In addition, several bugs (including bugs causing crashes) have been fixed.
Swipe to Go Back
Just like swiping to go back or forward between webpages in Safari, you can now use the swipe gesture on your trackpad or mouse to move between sections of the history report: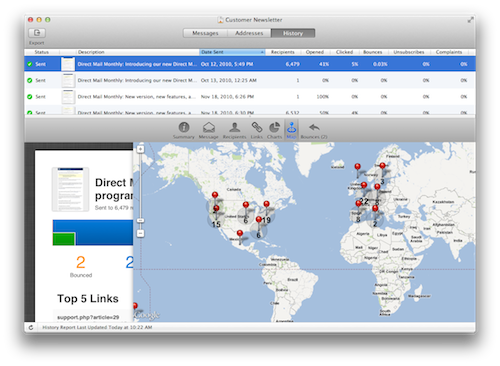 This gesture makes it easy to drill down from the Summary section into detailed reports, and then swipe back to the Summary.
How to Upgrade
Upgrading is easy. Just choose Direct Mail > Check for Software Update from the menu bar.
If you downloaded Direct Mail from the Mac App Store, you will have to launch the App Store to update your application.