If you've ever found yourself reaching over to turn off the alarm clock while simultaneously picking up your phone to check email, then it will come as no surprise to learn that mobile devices are fast becoming the preferred platform for reading email. Email certification company Return Path revealed last Friday that mobile email consumption is set to surpass desktop consumption by the end of the year. The combination of overflowing inboxes and tiny mobile screens means your email needs to catch the eye of your reader before he or she has even opened it. Luckily, Direct Mail has just the tool you need to grab your reader's attention: Preview Text.
What is Preview Text?
Preview Text is the two or three line preview of the contents of an email that is displayed in your inbox (usually underneath the subject line). Here's an example: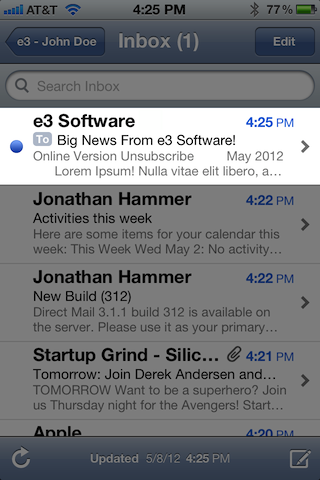 Similar previews are shown in Outlook or Apple Mail. These previews work great for showing the content of text-only or conversational emails, but are less useful for newsletters. As you can see in the above example, the preview text is just showing a link to the Web Version and an Unsubscribe link—instead of catching the user's attention with the meat of our newsletter. Wouldn't it be great if you could customize that preview text to grab your reader's attention?
Customizing Preview Text to Grab Your Reader's Attention
With Direct Mail 3, you're able to easily customize the content of those two or three preview lines.  Here's how:
First, make sure you're in the Messages tab. Then click the "+" next to the subject line. Choose "Preview Text"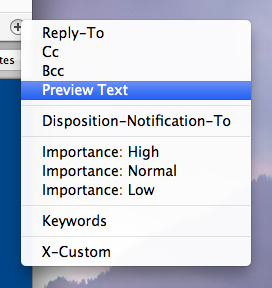 A new "Preview Text" header will be added to your message. Pick a headline or sentence from your newsletter that you think will grab your subscriber's attention and enter it into the text field:

That's it! Now, when your send your message, your subscribers will see the preview text you wrote, instead of the default (and usually ineffective) text picked out by their email client: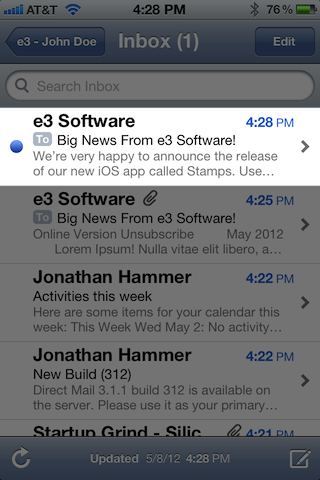 Conclusion
Writing your own preview text is a great way to stand out from the crowd—especially when you're competing for your reader's eyeballs on a tiny mobile device. Direct Mail 3 makes it easy for you to choose just how you want to present yourself to your subscribers. Try using Preview Text on your next newsletter and watch open rates improve!