The latest and greatest update to Stamps has been out a few weeks now, so we wanted to take a moment and highlight some of the great new features you can find inside. In case you don't already know, Stamps is our companion app for iPhone that brings you your campaign reports on the go. Here's what's new:
Subscribe Forms on the Go
Now you can access all of your subscribe forms right from inside Stamps. They've been optimized to look and work great on the small screen, too: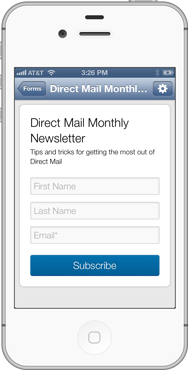 Now it's a cinch to sign up people for your mailing list no matter where you are!
Mobile Previews
This summer we added a great new feature to Direct Mail we call Design Tests. Design Tests show you full-size screenshots of what your email looks like in all of the top email clients (including mobile email clients). Since mobile email usage is set to surpass desktop email usage by the end of the year, we wanted to make designing for mobile even easier. Now you can instantly send previews of your message straight from Direct Mail to your iPhone. Here's how it works:
Just click the "Preview on iPhone" button in the Preview window and you're message will instantly appear on your iPhone.
Delivery Notifications
If you schedule a delivery to send at a later date, it's nice to know when your emails have actually been sent. Now you can (optionally) receive a notification on your phone when your delivery completes: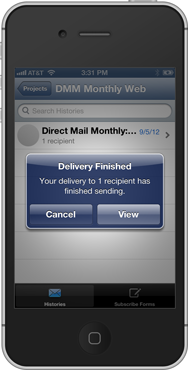 Improved Layout
We've reworked the layout of the history report screen in Stamps to show you more information and a larger thumbnail of your email. Tap on the thumbnail to expand the image, or tap on the arrow to view the web version of your message.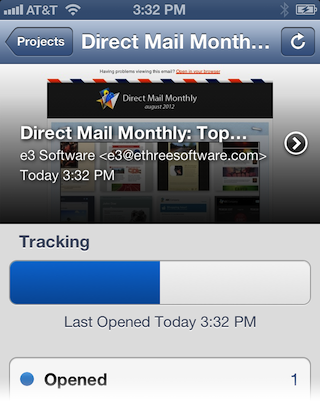 We hope you like these improvements to Stamps. Please let us know what you think in the comments (or on our support page), and stay tuned for more enhancements in the coming weeks!